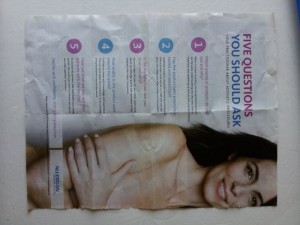 An advertisement from Allergan Medical Aestheticsin March this month contains some very good advice!
If you are not having aesthetic treatments from me, then I suggest you ask your practioner these questions prior to starting your treatment.
Question 1
Which Brands of Products do You Use and Why?
When it comes to quality, not all aesthetic products are the same>Understanding how they differ is important and something to discuss with your practioner.
Has the Product Been Tested and Researched?
Aesthetic Products should be backed by science and have a provenn trck rec ord, somake sure you ask about the safety and effectiveness of the product.
Is the Manufacturer one you Trust and Why?
You only want the best for your body. Learn about the quality, heritage and reputation of the company wo makes the product.
How widely is the product used around the world?
Confidence comes with knowledge and experience. Find out more about the product's use by patients and practitioners around the world.
How satisfied are you and your patients with the results?
To receive the products that best meets your needs, explain the result you want to achieve and ask to see other patients outcomes.
With an aesthetics treatment business of my own, I come across these questions frequently. As I am a qualified nurse and prescriber for aesthetic products and procedures I'd be more than happy to answer all these questions for you and any others you may have, whether or not you are currently having aesthetic treatments with me.