Skin care experts Aestheticare have recently launched a new product that deals with brown spots and 'hyper-pygmentation'. It is called Neoretin. The new product is now available at my clinic. Here are some questions that people have been asking about this new treatment.
What is Neoretin?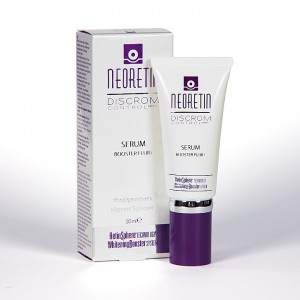 This is a medigrade serum and Gel cream that is designed to lighten and brighten sun or brown spots. It is also used to reduce uneven areas of your complexion and to reduce the area of pigmentation in melasma.
How does Neoretin work?
On a technical level this is what happens-
The unique Whitening Booster System complex of evidence-based cosmetic skin-lightening & brightening agents work in harmony to reduce tyrosinase synthesis; inhibit tyrosinase glycosylation; inhibit tyrosinase activity and to reduce the transfer of melanosomes to keratinocytes.
In other words it slows and stops the process where the skin turns darker by working on the melanocyte cycle.
How do I use the serum?

The gel cream is applied in the morning after cleansing the face and neck. it is easily applied and rapidly absorbed.
The serum can be applied in the morning and/or the night,after cleansing depending on the severity of the dark areas.
Is the serum safe?
The serum is clinically proven. The technology is patented evidence-based. It is recommended to avoid contact with eyes and mucous membranes.
How much does the serum cost?
Gelcream & serum are £39 each.
How do I get my Neoritin Serum?
Call to book a consultation
Mob: 07979 800 824
Email: enquiries@beckyhollands.co.uk